The Top 5 E-Commerce Platforms in the DACH Region: A Look at Market Shares
Online retail is booming. It's not just in the DACH region that e-commerce is enjoying steady growth.
In an era when digital marketplaces have become indispensable to most people, some e-commerce platforms have proven particularly popular and successful.
Businesses of all sizes and types are increasingly using online platforms to make their products and services available to a wide audience.
Given the growing popularity of shopping online, choosing the right e-commerce platform is critical for businesses looking to sell their products and services online.
However, the large number of e-commerce providers on the market can be a real challenge for deciding on the most suitable platform.
To help you make the right choice, we have conducted a thorough analysis of the e-commerce landscape in the DACH region.
Here are the top 5 e-commerce platforms in Austria, Germany and Switzerland
Wix
(21.66 % market share)
With a market share of over 21%, Wix tops the list of the most popular e-commerce platforms in the DACH region.
Wix offers a user-friendly interface that makes it easy for even beginners to create an online store.
The platform offers a wide range of templates that can be customized to meet the unique needs of any business. Moreover, Wix seamlessly integrates e-commerce features into its website building kits, making it easy to create a professional online store.
An all-in-one platform that allows users to create both websites and online stores.
The intuitive drag-and-drop interface makes it easy to design content and showcase products. Wix's e-commerce features include product listings, payment processing and inventory management.
WIX is a fast and cost-effective option to create an online store. However, it also has some drawbacks, such as the modular system that limits customization.
WIX is less suitable for complex e-commerce projects with extensive customizations or interfaces to third-party systems.
However, it is ideal if you need a simple and budget-friendly online store. Your choice should depend on your specific requirements and budget.
Shopify
(19.66 % market share)
Right behind Wix is Shopify, probably the fastest growing e-commerce platform in the DACH region. Shopify also has a significant share of the region's e-commerce market, with a market share of almost 20%.
The SaaS solution offers a wealth of features, including payment processing, product management and marketing tools. Its extensibility with apps allows online merchants to customize and expand their stores.
Shopify is one of the most popular e-commerce platforms in the world, offering a comprehensive suite of tools used by small startups to large enterprises.
Shopify allows merchants to create online stores, manage products, accept payments, and run marketing campaigns.
In addition to the standard version of Shopify, the advanced Shopify Plus platform is also available to businesses.
While Shopify offers an excellent entry-level e-commerce solution, Shopify Plus is aimed at established businesses with extensive, complex, and international e-commerce needs.
WooCommerce
(14.66 % market share)
As a plug-in for WordPress, WooCommerce enjoys great popularity and holds a market share of over 14%.
WooCommerce's strength lies in its seamless integration with the popular WordPress content management platform. This combination allows users to create powerful e-commerce stores with a variety of themes and plugins.
You have the freedom to choose from a wealth of plugins and themes to customize your online store.
Besides, thanks to WordPress' flexibility, you'll be able to add additional content to your website to increase user engagement.
Ecwid
(13.33 % market share)
Ecwid has secured a fixed place in the top 5 e-commerce systems in the DACH region with a market share of over 13%.
What sets Ecwid apart from other platforms is its clear focus as an e-commerce shopping cart that can be seamlessly integrated into existing websites like WordPress.
Unlike classic online store software solutions, Ecwid offers a unique way to sell products on existing websites.
Ecwid continues to stand out for its ease of use and can be easily integrated with websites, social media and mobile apps.
It enables merchants to sell their products across different online channels and provides a straightforward way to start an online store.
Squarespace
(6.33 % market share)
Squarespace rounds out the top 5 e-commerce platforms in the DACH region. With a market share of over 6%, Squarespace stands out for its aesthetically pleasing templates and integrated e-commerce features.
The platform is particularly popular with creatives and those who value a visually appealing online presence.
Squarespace is known for its responsive designs and offers a wide range of templates for websites and online stores.
The platform is ideal for creative entrepreneurs who want an aesthetically pleasing online presence.
E-commerce features like product management and checkout are seamlessly integrated.
At a glance:
The e-commerce landscape is characterized by a variety of platforms that enable companies to build online stores and market their products digitally.
Our analysis is based on data from trends.builtwith.com.
Based on market shares and active installations, the following top 5 platforms have proven to be particularly popular. The market shares are calculated from the number of active installations.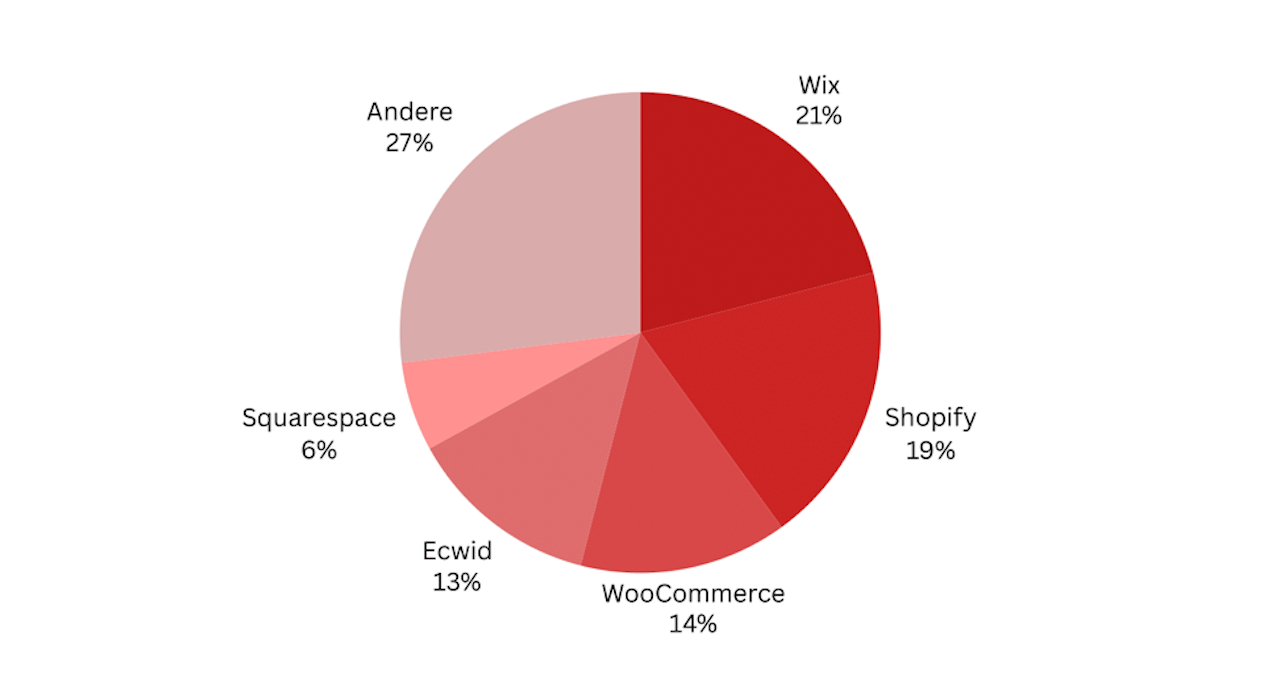 Wix: With over 21% market share, Wix is known for its user-friendliness and seamless integration of e-commerce into its website building kits.
Shopify: A share of almost 20% makes Shopify a versatile platform with numerous features and customization options.
WooCommerce: With over 14% market share, WooCommerce scores high with its seamless integration with WordPress, allowing for flexible e-commerce website creation.
Ecwid: With over 13% market share, Ecwid stands out for its integration with existing websites and social media.
Squarespace: With a market share of over 6%, Squarespace stands out for its aesthetic templates and integrated e-commerce features.
Making the perfect choice for your e-commerce busines
The e-commerce market is diverse, and each of the platforms mentioned has its own merits.
Choosing the right platform depends on individual needs, technical expertise, business goals and budget.
Before making a final decision, it is recommended to conduct a thorough analysis of each platform's features, pricing and requirements.
Don't forget that an effective online marketing & SEO strategy is essential to position your business in front of your target audience.
It is often advisable to consult experienced e-commerce experts or an online agency for professional assistance in choosing the ideal e-commerce solution.